Arts In Square Article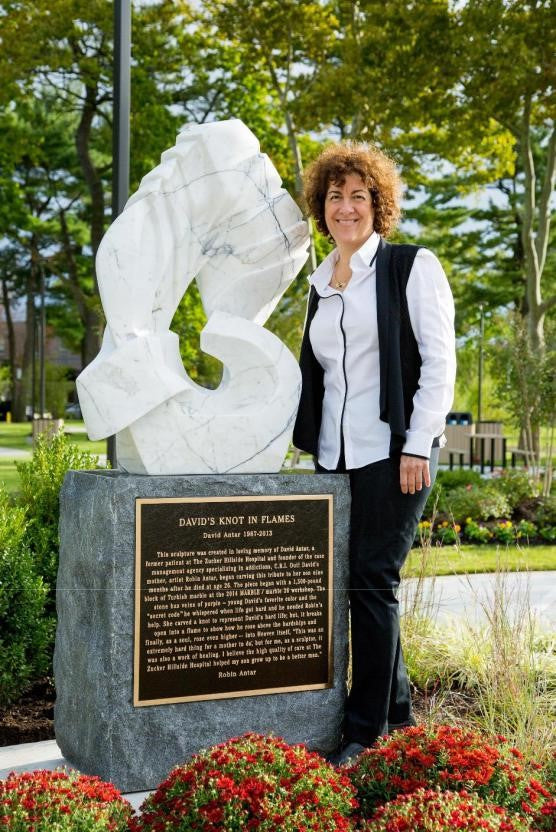 What is America? Is it a summertime barbecue, Oreo cookies, a comfortable pair of jeans, a pair of cowboy boots? What do these icons of American popular culture represent today? Will they still have relevance fifty years from now? My work explores these themes through larger-than-life, hyper-realistic sculptures in stone – where a simple hot dog becomes a monument to American life and a bottle of French's Yellow Mustard evokes memories of the classic American diner. The question has also prompted a sculptural exploration into my own Jewish heritage. Ritual salt cellars carry the condiment into which generations of my family have dipped portions of braided bread at the Sabbath table. Candy bowls cradle sweets traditionally gifted between Jews during Purim. These pieces, created from fragments of stone from around the world, are visual reminders of how ethnic traditions are woven into the fabric of America's culture. The foundation for this exploration into American culture is grounded in the abstract sculptures I've been creating since I first put chisel to stone in high school. My "Expressions in Stone" series are pure abstractions of personal emotions - a deep dive into teenage angst, relationships, marriage, motherhood, and the challenges of life. My creative process is very physical. Sharp, powerful tools such as diamond blades and high-powered air hammers are my spiritual channels as I chisel away stress, anxiety, frustration, or anger, which vanish as I cut into the rock, often resulting in transformation and moments of peace for myself as well as the viewer. A finished sculpture "works" for me when I feel it has "life." I'm not afraid to go into raw stone and "cut the line." Whether the piece is abstract or realism, it's important for the form to have vibrant movement.
Robin Antar Interview 
Hi Robin, could you tell us about your background and how it has influenced your professional career?
 I developed a very strong character through all the personal challenges in my life: changing schools as a teenager, discovering I was blind in one eye at the age of sixteen, a difficult divorce, and dealing with my son's abuse as a child and his subsequent drug addiction and death. I'm very aggressive which is why I prefer stone as my artistic medium. I'll attack a 1500-pound block of marble with seven-inch diamond blades and high-powered air hammers to chisel away at anxiety and frustration. I'm not afraid to go in, not afraid to "cut the line," which gives my forms vibrant movement. I also have to be aggressive to get myself noticed as a woman in the art world. It's how I became the first female artist on the roster of Pop International Galleries in New York that represents works by Andy Warhol. I'd been bugging that gallery for years. I asked the owner what he wanted me to make and he said, "Boxing gloves." I resonated with the theme since I was going through a lot in my life at the time. So I made boxing gloves. And every time I'd make a new piece, I'd say, "Here, look, I did this." I learned to be self-sufficient and resourceful, even as a teenager. I used to take the stone chips from my sculptural work in high school and make earrings and pendants and sell them so I had my independence and could spend a lot of money on different kinds of art supplies. This is how I developed my signature technique for using stains to color stone. First I did it on rice paper, then canvas, and then stone.
How and when did you first start making sculpture?
 Sculpting has always been my spiritual refuge. My family moved from New Jersey to Brooklyn when I was in high school. I was 16 and didn't know anybody in my new school. One of my teachers invited me to take a sculpture class and I was hooked! I did twenty sculptures in six months. I had never done art before and here I was with other kids who had done art their whole lives. I would take a raw stone - no model, no nothing - and just create whatever came to my mind. Whatever mood I was in, that's the kind of piece I would do. It wasn't decorative. It was strictly expression. I'd work for hours in the school's studio, and then go home and work through all hours of the night in my parents' basement. My father would come down to my studio at three in the morning to remind me to go to bed. I thought that everybody could do this – just take a piece of raw stone and carve out an abstract form that works. But when I started teaching - at age 18 when I was in college - I realized that not everybody could see the "vision" of an abstract form all around the stone. I never made a model but I had my students make models because they couldn't visualize the form in the round. So I learned that not everybody could do what I could do.
Have you had an interest in working with materials other than your primary focus during your career? Why did you choose stone, and what does it mean to you?
 I tried other mediums in high school but fell in love with stone because the work is very physical. Clay was too soft - it made me so crazy I threw it across the studio and went back to working with stone. The physical nature of my creative process allows me to infuse each piece with all the forces at play: joy, heartache or rage simply adds more fuel to the fire.
What is your process like, and how do you begin?
 The sculpting process is very physical, with diamond blades and high-powered air hammers to cut and chisel the stone. For larger pieces, I travel to the Marble Institute of Colorado every year for the MARBLE/Marble Symposium where I have access to an outdoor studio and assistants with machinery to help me move large blocks of stone as I work. The sanding process is very labor-intensive and done by hand, using multiple diamond grits to achieve an exceptionally smooth finish. Although it's hard work, the result is a work of art in stone that is alive. At the beginning of my career, I developed a special process of tinting the stone which I first used in my visual series, expressing my unbalanced vision, then moved the technique to my realism series. It is really cool to be able to control the mood of a piece with tints of color on certain stone - porous stones like limestone work best.
You have been working on both representational and abstraction formats; could you please tell us the difference between them? (Or can you tell us about the process of making two different forms of art? Which of them do you prefer the most? How come?)
 Each of these series serves a particular purpose. In my abstract "Expressions in Stone" sculptures I represent specific emotions or particular events from my life, using stones from around the world. It's a different process than the realism series; I carve intuitively as I breathe my emotions into the grooves of my work. Stone "knots," for example, initially represented the anxieties and difficulties of raising children and dealing with child abuse, divorce, and death. My newer "knot" works reflect more universal themes of struggle, such as the current challenges of our nation. The "Realism in Stone" series explores "What is America?" as I create "stone monuments" to contemporary American culture, past and present. Since the goal is hyper-realism, I carve directly from a model: a bottle of Heinz ketchup, a pair of Doc Martens boots, a bag of Oreos. This is extremely difficult since I am blind in one eye and have no depth perception so I use a ruler to calculate the shape of the sculpture. Both styles are equally important to me, and I have recently begun exploring how to combine them into a single sculptural work of art.
The Ballpark Frank and Summer Barbeque are some of your most famous new works; can you tell us more about them? When did you start working on food and condiments?
 The food and condiments series emerged midway through my career as an artist. After the September 11 attack on the World Trade Center, I began to ask, "What is America?" When I think of America, I think of comfort food.
 The Ballpark Frank sculpture is the centerpiece of my "What is America" series. It's carved from limestone (the bun) and red travertine (the hot dog) and weighs 300 pounds. The bun is carved out of a single piece of stone and tinted with my signature technique for staining stone which I use in most of my realism work. The hot dog was carved from a solid piece of claret-colored stone, topped with "mustard" and placed inside the bun - a feat that wasn't easy! Summer Barbecue was inspired by a fond childhood memory of my neighbors who used to invite me over to their house for a barbecue during the summer. The food and the friendships represent the best of America. As for the condiments such as mayonnaise and ketchup - you can always find them in most American restaurants and diners so to me, they are part of American culture. Although I'll admit I don't like condiments and don't even have them in my house! For these works of art, I am simply "the artist as an observer" of American culture.
You've been working on some symbols of America, from the Boots and Jeans series to liquor bottles, Oreo biscuits, and the M&M series. Why and how do America and its culture affect your work?
 As I mentioned previously, all of my realism sculptures are monuments to American contemporary culture. The iconic sculpture that symbolizes this shift is North Tower 9/11 which was created following the September 11 attack on the Twin Towers. I started thinking, what is America? What could I carve in stone that would represent this? Everyone was doing flags and the Twin Towers. I wanted to create something different. To me, America is comfort food and fun, so M&M's became the perfect representation for America in the sculpture, spilling out of a crumpled "bag" (tower). So I began to not only explore symbolic icons of American popular culture, I also started representing events that created a major cultural shift in America.
Describe a real-life situation that inspired you.
 The most personal and powerful sculpture I ever created was David's Knot in Flames, honoring the death of my youngest son, David, who passed away at the age of twenty-six following years of addiction due to child abuse. David had a very hard life so I carved a knot in stone - the knot represented his pain - but it breaks open into a flame symbolizing his soul rising to heaven. This was an extremely hard thing for me, as a mother, to do. But as a sculptor, it was also a work of healing. The sculpture is permanently installed at Zucker Hillside Hospital where my son received treatments. I later learned that many of the hospital's patients would touch the sculpture for good luck, in the hopes of overcoming their health challenges. That to me is worth all the money in the world.
What is your next project?
 My next piece combines abstraction with realism for the first time. I will be finishing The U.S. Constitution in a Knot for a potential future exhibition incorporating work from my "What Is America?" series. I decided to represent the U.S. Constitution as a stone knot sculpture to express all the craziness that is going on in our country - not as a political statement but as an observation of events and trends. The sculpture will include the inscription, "We the People" and the knotted Constitution will be held aloft by a pair of hands.
Is there anything else you would like to add about your your career?
 I have recently added an online gallery to my website (rantar.com) where visitors can now purchase my work online. I'm very active on social media and have seen an increase in sales, particularly through Instagram. Over the past year, I was named among the top 100 Sculptors of Tomorrow by Kurt Beers, gallery director of BEERS London, and my work was featured in his award-winning book by the same name published by Thames & Hudson. A luxury London magazine, Square Mile, picked up the story for an article on "The Best Sculptors in the World." I keep moving forward and am always looking for ways to put my work out in the world and into the hands of collectors.